3 Cheap Marijuana Stocks on Verge of Price Breakout
Discover how the new pot industry could multiply your
investment portfolio up to five times… without you
ever buying, selling, or even touching a marijuana plant!
Dear Reader:
Whether you are for the legalization of marijuana… or are against it… the fact of the matter is…
We are witnessing an unprecedented boom in a current estimated $17-billion industry that is creating new millionaires.
My name is John Whitefoot, BA. I'm a senior analyst at a 34-year-old investment research firm that's had the pleasure of serving over one million customers in 141 countries.
I've been involved in the financial markets my entire career — and I've never seen an opportunity quite like this…
As I'm sure you've heard, some pot stocks have delivered extraordinary gains…
…and I believe this new marijuana industry will create even more millionaires in the next 18-36 months… without them ever buying, selling, or even touching a marijuana plant.
And you could potentially be one of them… if you know what companies to invest in and how to use a specific investing strategy I'll disclose to you now.
If you're interested — I'm ready to share with you:
Not one, but three marijuana stocks you should consider right now.
We've already seen a gain of 574% over a 12 month period from them (not a misprint) and I expect to see prices go up five-fold again.
And they are trading at an average of just 97 cents! Yes, less than $1!.
Before I share with you the three companies — let me show you why this new industry's explosive growth will be unlike anything we've seen in years…
Why the Marijuana Industry Could Be Unlike Any Other Industry
As you could probably guess… marijuana-related companies join a class of stocks commonly known as "sin stocks."
Sin stocks are primarily composed of alcohol, tobacco, and gambling companies.
Of course, there are some people who (for religious or ethical reasons) won't invest in these types of companies.
But many investors will put their money into these companies because they know that there will always be a demand for these "sinful" products and services.
Even the old sin industry stocks are doing well these days. For example…
Smoking products company Turning Point Brands Inc. has seen its stock skyrocket 210% in less than a year.
And I'm sure investors in sports betting company DraftKings Inc. have been rejoicing as that stock has gone up 369% in about the same time.
There are a lot of opportunities to profit from the "sin stocks."
In fact, here is the MOST IMPORTANT REASON why I believe the marijuana industry could be the most profitable industry you'll ever see in your life…
Seventeen states have now legalized the recreational use of marijuana while medical marijuana is legal in 35 states. Of course, Canada has become the first of the G7 countries to make pot for personal use legal across its country.
According to Cowen & Co., the marijuana industry is estimated to be worth $50 billion by the year 2026.
As you can imagine, with all this growth, marijuana stocks are taking off:
Canopy Growth Corp — Investors in this marijuana company watched share prices jump 361% in less than 24 months… potentially turning a very modest $10,000 into $46,100.

TerrAscend Corp. — This stock skyrocketed 219% in less than 14 months as it went from $1.37 to $4.37 a share.

New Age Beverages Corporation — Those who invested in this company had the opportunity to enjoy a 362% return in less than five months.
And get this…
According to a recent Gallup poll — 43% of American adults have admitted to trying marijuana… while 13% of American adults admitted to being current users of marijuana.
Of course, we suspect both numbers to be higher than reported because there are people who won't admit to doing this "illegal" activity.
Breaking down the numbers, it means that over 40 million American adults "light up" regularly. And countless millions of others smoke pot on an occasional basis.
Insatiable Demand = Once-in-a-Lifetime Profits?
There's no doubt that marijuana and marijuana-related products are, and will continue to be, in high demand.
According to one marijuana industry CEO:
"The demand for marijuana is insatiable… You have a feeding frenzy for the birth of a new industry."
In the first week after the State of Colorado made pot legally available for recreational use, customers shelled out $5 million on marijuana to smoke and on cannabis "edibles" like pot brownies, cookies, and candies.
What's even more impressive is that retailers sold a million bucks' worth on the first day alone and it just grew from there.
Now here's what's important to know as an investor…
Each of those sales in Colorado is subject to sales tax… the last yearly numbers I have for Colorado show tax revenues hit $200 million as sales exceeded $1 billion.
And whenever there are new tax revenues… there are usually politicians trying to find ways to put that money to use.
The Colorado Governor sent the Legislature a detailed $134-million proposal for spending recreational and medical marijuana tax money.
And one Senator, a Denver Democrat who serves on Colorado's budget-writing Joint Budget Committee, remarked:
"The whole world wants to belly-up to this trough."
In Washington State where recreational marijuana use has also been made legal — the state charges a 37% excise tax on all taxable sales of marijuana… and that includes marijuana concentrates, useable marijuana, and marijuana-infused products!
With many states deep in debt and scrounging for more tax revenues — investors can be confident that many other states will be jumping at the opportunity to make marijuana legal so they can get their piece of the pie.
Three Low-Priced Stocks to Potentially Turn You into a "Marijuana Millionaire?"
Our research shows that each of these following three marijuana-related stocks could potentially turn each $1 invested in them into $5 again.
That's why I call them the "Marijuana Millionaire Maker Stocks."
Now, to be clear — I'm not saying that every single one of these stock plays will make you a million dollars.
If I could accurately make those kinds of predictions — I would have retired as a billionaire a LONG time ago!
What I am saying is that by investing in these plays… at the right time… with the right amount of money in each one — the potential to make serious dollars is there.
Some people may only feel comfortable putting up to $500 on these plays… others may invest $1,000 on each… and if your nest egg is larger — you may want to put up to $5,000 or more on any one (or all) of these plays.
Of course, you're completely free to invest as much or as little as you like…
And in a moment, I'll share with you a unique resource that provides you with a solid game plan to invest in these particular marijuana-related stocks.
But before I do — here are the three "Marijuana Millionaire Maker Stocks" that could provide you with explosive growth and fast profits…
MARIJUANA MILLIONAIRE MAKER STOCK #1
In just six years, this company has built the top-selling line of hemp-based CBD oil products. (CBD is an extract from marijuana plants that has proven health benefits such as pain relief.)
Through a network of over 2,200 retail locations in the U.S., this company sells over 50 different SKUs of branded CBD products.
And sales and income are booming! The company hit revenue of $48 million last year — double the revenue of the previous year. Net income is soaring, coming in at a whopping $10 million last year!
The passing of the 2018 Farm Bill will only accelerate the sale of CBD oil products in the U.S. — now expected to be a $1.6-billion industry in 2021 — and this company could become the major player in this new market.
What's the name of this company?
Well, I can't disclose that here. And there's a good reason why.
In a moment, I'll share that reason with you — and I think you'll agree that it makes good sense that I share it privately instead of openly on the highly visible Internet like this…
MARIJUANA MILLIONAIRE MAKER STOCK #2
This company offers a full range of pot products and operates adult-use pot dispensaries in six states.
It has entered into agreements to buy a licensed cannabis producer in Pennsylvania and two other companies that operate medical marijuana dispensaries in Illinois.
The company has invested $30 million in a vertically integrated producer of hemp CBD oil.
It is the exclusive distributer of a popular device people use to "consume" pot without smoking it!
All this activity is leading to big growth for the company with year-over-year quarterly revenue doubling.
The best part: You can still get into this stock for less than one dollar!
MARIJUANA MILLIONAIRE MAKER STOCK #3
This final Marijuana Millionaire Maker Stock has just become the largest third-party cannabis extraction company in Canada with the capacity to produce over 500,000 pounds of pot annually!
While revenue for the company came in at around $40 million in the last year, average consensus estimates from the analysts following the company forecast revenue of $130 million a year in 2021.
So what company is this?
As I mentioned earlier, I can't divulge any of these "Marijuana Millionaire Maker Stocks" on this public web page.
Here's why…
The Reason for RESTRICTED ACCESS to These Three "Marijuana Millionaire Maker" Plays…
When you invest money in well-established "blue-chip" companies like McDonald's (MCD), Exxon Mobil (XOM), or IBM (IBM) that have market caps of $100 billion or more each, there typically aren't large upswings or downswings with the stock price on a daily or even weekly basis.
But with the three "Marijuana Millionaire Maker Stocks" I mentioned here — their market caps are just a small fraction of those blue-chip companies' caps. After all, pot is still an industry in its infancy…
As a result, these stocks are thinly traded… meaning that you could see dramatic shifts in the share price.
This is why we're restricting access to these thinly traded stocks to the first 50 people that sign-up today: to ensure that there aren't too many people getting in on these plays… and artificially increasing the share prices.
Now, if you went to a high-priced and experienced financial advisor to compile the research about these three "Marijuana Millionaire Maker Stocks" — you could expect to pay thousands of dollars.
After all, it would take them days to sift through all the marijuana-related companies that are out there to find that tiny handful that actually have BIG potential.
I've done that legwork and created a special investor research dossier that I bet many investors would love to have.
Our investment research firm was going to charge $195 for this highly specialized financial research.
And when you consider that the information in this report on these three marijuana-related companies could potentially make you thousands of dollars — that makes this report worth every single penny.
The report is titled: 3 Best Low-Priced Marijuana Millionaire Maker Stocks to Own Today.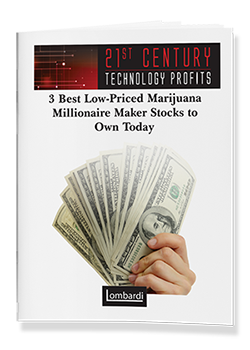 If you're interested — in a few moments, I'll show you how you can get this report with my compliments.
I'll show you how to get the names of the companies I just talked about and their stock ticker symbols.
But before I do, let me tell you a little more about myself and what I offer…
As I said earlier, my name is John Whitefoot, BA.
As a stock analyst, my job is to literally sift through hundreds of pages of research each week to find the ones with the most promise.
I then report on them (with my specific buy/sell advice) to a select group of clients who are interested in lucrative stock opportunities.
I reveal these opportunities monthly in my 21st Century Technology Profits… a unique eight-page financial newsletter that's been published by our research firm for years.
My goal with 21st Century Technology Profits is to present my readers with the best technology opportunities before they hear about them from CNBC or The Wall Street Journal.
For instance, a few years ago, I began informing my readers about the explosion of new biotech opportunities while the market was at the very early stages.
I honed in on little-known biotech companies on the leading edge of new life-saving therapies and drugs.
As a result, my readers had the opportunity to walk away with so-called "impossible" gains like…
380% on Alexion Pharmaceuticals

241% on Ligand Pharmaceuticals

135% on Trius Therapeutics

184% on Alkermes

78% on Complete Genomics

215% on Galena Biopharma
A $10,000 stake in each of these plays could have landed you a windfall of $123,300 in profits.
But these gains are nothing compared to what I believe is ahead for the new marijuana industry stocks. That's why I'm so excited about them!
And that's why I want to send you my research report, 3 Best Low-Priced Marijuana Millionaire Maker Stocks to Own Today… when you try my monthly 21st Century Technology Profits financial research service today.
Each monthly issue of 21st Century Technology Profits gives my latest recommendations, provides a breakdown of why I feel these investments will be winners, and follows up with my advice on past recommendations… all in eight easy-to-read pages.
Marijuana Millionaire Maker Report Could Multiply Your Portfolio Five Times or More?
Now, I want to be clear before you proceed any further.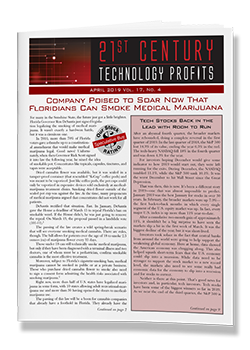 My 21st Century Technology Profits research service is NOT for everybody.
In fact, the opportunities I uncover are probably not right for most ordinary investors.
However, I realized long ago that investing is far more profitable when you take the road less traveled… but for some folks (for whatever reason), that just doesn't make sense.
Some people just have a hard time going out of their "comfort zone" and investing in new tech and new sectors like the new marijuana industry.
But the ironic thing is, that's exactly why investing in new tech stocks (including the "Marijuana Millionaire Maker Stocks") could make you a fortune.
You see, if everyone was investing in these thinly traded stocks, and everyone felt comfortable with them, well… they'd become mainstream, and their effectiveness would basically disappear.
And the good news is that you don't have to "bet the farm" on these plays. You could test the waters with as little as $500 on each play if you like.
Of course, the more you invest — the more money you could make.
And I want to stress something else:
While our track record in 21st Century Technology Profits sounds phenomenal…
…there's no guarantee that every one of our recommendations will make money.
Past performance is no guarantee of future results and all investments — no matter how safe they sound — have risk.
Finally, you don't need to be an investing expert to take advantage of these opportunities.
You simply check out my research each month, pick the plays you feel comfortable getting into, and make a few simple trades. You could do it all in less than an hour each month.
Here's everything you'll get when you try out my research:
INVESTOR RESEARCH DOSSIER: 3 Best Low-Priced Marijuana Millionaire Maker Stocks to Own Today: Here, you'll learn all about the three marijuana companies I told you about in this presentation… three plays that could allow you to multiply your portfolio by up to five times over the next several months.

Our Current Issue of 21st Century Technology Profits: Delivered right into your e-mail inbox… you'll receive this exclusive financial research newsletter filled with little-known new tech investment opportunities.

Customer support staff: If you have any questions about your subscription, you can call our support staff at any time and get live help from 9:00 a.m. to 5:00 p.m. EST.
At this point, you are likely asking yourself, how much does this all cost? Confidently, I can say not much.
While seasoned investors and experienced traders might pay up to $2,000 a year for this kind of financial research and market updates…
The regular annual price for 21st Century Technology Profits, that's for 12 big monthly issues, is $295.
But through this offer…
Since I truly believe that pot stocks will be remarkable performers as we move forward…
And I don't want any serious investor to miss out on the winning stock picks I will make in 21st Century Technology Profits…
Your rate when you order today is $100 off the regular price: you pay only $195.
Yes! $100 off the regular annual price!
And the $195 is not a promotional or introductory price. It is the permanently discounted annual price you will pay going forward; for as long as you are with us.
And it gets even better…
When you subscribe today, we'll start your one-year, 12-issue subscription to 21st Century Technology Profits and rush you your special report, 3 Best Low-Priced Marijuana Millionaire Maker Stocks to Own Today.
If I don't deliver the profits I claim to and more, or if you are not satisfied with 21st Century Technology Profits for any reason, let us know by phone, e-mail or regular mail anytime during your one-year, 12-issue subscription and we'll send you a refund of your undelivered issues.
Of course, the special report 3 Best Low-Priced Marijuana Millionaire Maker Stocks to Own Today is always yours to keep with our compliments.
This guarantee is backed by our company, in business for 34 years now and having served over one million customers in 141 countries!
Why such a generous offer?
Well, the answer is simple.
As I mentioned earlier, our business model is based on providing solid (and profitable) financial research to our customers.
When we do, our subscribers stay with us for years to come. (That's how we've stayed in business for the past 34 years in spite of all the market's ups and downs.)
Unsure of What to Do? Try This…
If you're on the fence and unsure of what to do, here's what I recommend…
Sign up today and check out the 3 Best Low-Priced Marijuana Millionaire Maker Stocks to Own Today report… browse through my current investment recommendations and discover new low-priced tech opportunities in upcoming issues of 21st Century Technology Profits.
There's no rush…
Again, if you're not happy at anytime during your one-year, 12-issue subscription… if you are not getting the profits I told you about, let us know by phone, e-mail or regular mail and we will give you a refund of your undelivered issues.
But the special report 3 Best Low-Priced Marijuana Millionaire Maker Stocks to Own Today is always yours to keep, no matter what.
It's as simple as that.
Don't be late to the new billion-dollar marijuana industry. Get in at the very beginning of the historic legalization of pot in America.
Once the Prohibition period was over in America in 1933, booze companies boomed. The same thing is going to happen now with the marijuana producers.
Simply click the link below to get started today!
Remember, there are only 50 openings available.
I look forward to welcoming you, and to helping you grow and protect your wealth as a new 21st Century Technology Profits subscriber.
Get started now!
Yours truly,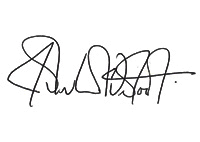 John Whitefoot, BA
Senior Tech Analyst
Lombardi Publishing Corporation